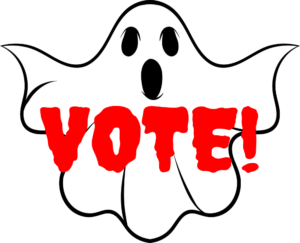 You will be voting on:
MOST Favorite Dock and Boatload
Second and third most fav and
Most "Spirited" dock and boatload.
In order for people to identify you for the vote:
DOCKS will use THE NAME ON THE MAP as their identifier
BOATLOADS will need to use the ORDER NUMBER from their registration. It's clearly identified on your email you received when you signed up your boatload. You will want to write it on a piece of cardboard and attached to your boat somehow.
If this works out, we'll refine the system for next year.
Winners will receive a SPOOK THE LAKE winning certificate in the mail that you can frame!
We encourage everyone participating to take lots of pics and use a notepad to write down your favorites so you can vote! Voting will be open all day Saturday and Sunday.
Remember: Docks use the dock name. Spookers use the order number when they registered your boatload.
Voting is now closed.